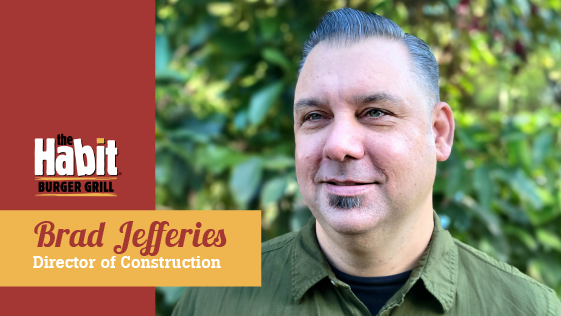 From Discovery Day to your restaurant grand opening, it's no doubt that members of The Habit's leadership team play pivotal roles throughout the course of opening a franchise. As Director of Construction, Brad Jefferies is one such individual that has led his team through instrumental franchise development efforts.
With over 25 years of experience in the Restaurant & Retail Facilities/Construction industry, Brad's expertise and leadership have significantly impacted our brand's franchising endeavors, shaping the overall atmosphere of our restaurants with a clear design vision, while helping franchisees bring their dreams to life. In this next iteration of Building Better Habits, we delve into Brad's role and explore his influence on design and innovation within The Habit.
Can you describe your professional background and work as Director of Construction & Design with The Habit?
BJ: For the past 25 years, I have immersed myself in the Restaurant & Retail Facilities/Construction industry, honing in on my skills and knowledge in various aspects of the field. As the Director of Construction for The Habit, I have had the privilege of leading the Construction & Design team for the last four years. During this time, we have expanded The Habit's presence globally, opening locations in Shanghai and Cambodia, while also focusing on growing our footprint on the East Coast and infilling white space in the West in the United States. My team oversees the entire construction process, from initial design and permitting to FF&E procurement and build-out.
How do you approach the process of coordinating with the various design and construction team members to ensure the buildout aligns with the vision and brand identity of The Habit?
BJ: Collaboration is at the heart of our approach. We work closely with developers and franchisees to ensure that The Habit's brand vision is realized in every new restaurant. Our team maintains regular meetings with Habit Burger Grill designers and construction managers who assist throughout the design and build-out process. By fostering open communication and a shared understanding of the brand's values, we ensure that each restaurant maintains consistency with The Habit's identity, while accommodating local market needs and preferences.
What is one thing that makes you most proud of your time at The Habit?
BJ: I take immense pride in our ability to open new restaurants during the challenging times of the pandemic. Despite numerous obstacles, our team was able to pivot quickly, addressing supply chain issues and working around permitting delays. It was a true testament to our resilience and adaptability. Opening new locations during such a period showcased the dedication and determination of The Habit's franchise network and our commitment to providing exceptional dining experiences to Guests across the country.
What are your current goals for your role/department?
BJ: Currently, we're focused on developing a new prototype design that provides flexibility in choosing suitable sites for future Habit Burger Grill restaurants. I am particularly proud that our in-house design team has created this innovative concept. By enhancing our ability to adapt to diverse locations and market demands, we aim to expand The Habit's reach and provide even more opportunities for franchisees to thrive.
With his extensive experience and expertise, Brad leads a dedicated team that works in tandem with our other departments to continue building our growing franchise network. We're eager to watch Brad and his team in the months ahead, as they continue the development of the flexible prototype design. This project is especially reflective of Brad's commitment to expanding franchise opportunities and maintaining The Habit's position as a leader in the fast-casual dining industry.
Interested in bringing The Habit to one of our prime open markets? Fill out our online inquiry form to get in touch with our team today.