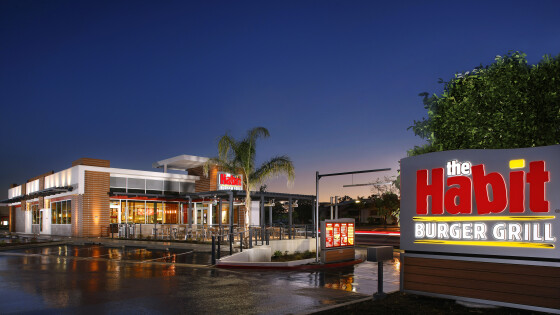 In this edition of Building Better Habits, we sat down with John Phillips, The Habit Burger Grill's Chief Business Development Officer, to gain valuable insights into our franchise growth strategy. With decades of development experience and a deep understanding of the brand's goals, John sheds light on various aspects of expansion efforts and its alignment with The Habit's long-term vision.
Considering the brand's historic focus on dine-in, how do you balance dining room ambiance with the convenience factor as digital and drive-thru options grow?
JP: While we've historically been known for dine-in, we recognized early on in this evolution the growing importance of digital and drive-thru options, which is why our buildout models have become increasingly flexible. We can flex a space anywhere from 2,200 to 3,000 square feet depending on what is right for that location. Our design models and operational strategies are evolving to strike that right balance, ensuring that both dine-in Guests and those seeking on-the-go convenience have a great experience.
How does The Habit approach ground leasing agreements? What advantages do you see in this approach compared to other methods of property acquisition, and how does it align with the brand's long-term growth objectives?
JP: Our approach to ground leasing and land purchasing is highly opportunistic. We assess various options, including land purchasing and utilizing second and third-generation restaurant spaces, which opens up doors in the real estate market for us. We consider both free-standing locations and those with drive-thru and non-drive-thru setups, all while carefully evaluating site characteristics. In the end, we want to be able to adapt to the specific needs of each market and support long-term growth objectives for our brand and the operator.
Could you provide insights into the criteria your team uses to identify and evaluate potential new markets for The Habit Burger Grill?
JP: Our team relies on a proprietary site characteristic locator, which provides essential data for market evaluation. This tool helps us determine the optimal number of restaurants for a given market, the right penetration point and demographics. We also collaborate with brokers to gain a deep understanding of the available real estate in each market. A lot of consideration and planning goes into market entry as we want each restaurant to sustain promising growth.
Looking ahead, what is the long-term vision for The Habit Burger Grill's franchise development strategy? Are there any innovative approaches or trends you see shaping the future of the brand's growth?
JP: Our long-term vision involves exploring different operating models that accommodate the evolving landscape of dining preferences. This could include an increase in curbside pickup, drive-thru options, and digital pick-up lanes. We will also continue the development of freestanding sites, end caps, end cap drive-thrus, and build to suits. Ground leases and land purchases are specific ways to achieve these particular development goals. Our team will remain attentive to keeping the ambiance of our restaurants alive as it's a notable trademark our Guests have come to appreciate.
With a keen eye on real estate opportunities, a commitment to market-specific strategies, and a dedication to enhancing the Guest experience, John and the rest of The Habit team continue to carve a path toward sustainable growth. Interested in developing your portfolio with a proven and prominent multi-unit burger brand? Fill out our online inquiry form to get in touch with our team today.