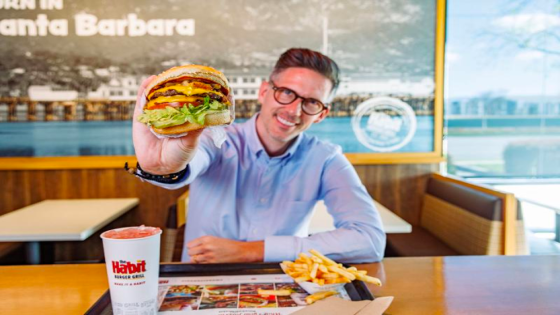 In this next edition of our Building Better Habits series, we sat down with newly-appointed Chief Marketing Officer, Jack Hinchliffe, to dive deeper into his eight-year tenure with Yum Brands!, including his award-winning and transformational work on the KFC UK & Ireland team, as well as his vision for enhancing The Habit's marketing approach. Continue reading to discover what motivates Jack in his journey to not only better our brand's market value, but our cultural relevancy and meaningfulness to the Guests we serve.
You recently joined The Habit team in February. What was your journey like to get here?
JH: The move to The Habit this year was a timely moment in my career. I was with Yum Brands! at KFC UK for just over eight years where I held various roles in marketing leadership from product development to sustainability and communications, which allowed me to leverage creativity and big ideas to drive business impact and digital transformation. We made concerted efforts to move to omnichannel retailing, so the brand could deliver a seamless customer experience, gather valuable insights, engage customers more effectively, unlock additional revenue streams, and adapt to the evolving market dynamics. During my time at KFC UK, I was incredibly proud to have been awarded Brand of the Year by Marketing Week in 2021 as well as the Gold IPA Effectiveness Award for Business Transformation. The knowledge and insights I have acquired from KFC UK have been immense, and I am enthusiastic about incorporating them into The Habit to build a contemporary and unique brand centered around meticulously prepared, high-quality food.
What gets you up in the morning…where do you look for inspiration or motivation in the workplace?
JH: In my professional life, three key factors drive my motivation and shape the way I approach my work. First, I believe everyone has the right to feel like they belong. Feeling seen and heard is incredibly important, which is why I strive to give everyone opportunities to share their ideas unfiltered, without fear of judgment. Creativity and great ideas are born from the diversity of thought and I want my workplace to encourage just that. Secondly, I believe in progress over perfection. We all have it in us to be extraordinary and to deliver those results in different ways. By embracing this mindset, we can unleash our full potential and unlock new levels of success, both individually and as a team. Lastly, I actively recognize that we are all on a continuous learning journey. I am committed to finding new insights every day and fostering a growth mindset that embraces the notion of constant development. However, I believe it's important we maintain humility and acknowledge we may not always possess the answers or solutions. Keeping an open mind and being receptive to feedback cultivates an environment that produces innovative approaches and is ready to evolve when faced with new challenges.
What are you most excited to do as The Habit's Chief Marketing Officer?
JH: I am thrilled about the prospect of magnifying our marketing efforts and enhancing the brand's prominence within the cultural landscape. My primary objective is to establish The Habit as a lighthouse brand, one that is instantly recognizable, iconic, and impossible to overlook for consumers. To accomplish this goal, I intend to prioritize making investments in robust media strategies that maximize our brand's visibility and reach. By expanding our media presence, we can effectively communicate our brand's unique value proposition and capture the attention of a wider audience. Through this, I am confident that we can increase brand recognition and bolster our position as a leader within the industry.
With his wealth of experience and dedication to progress, we can anticipate an exciting era ahead as Jack leads the charge to elevate The Habit's brand presence, maximize its impact, and deliver exceptional experiences that resonate deeply with our valued Guests. Stay tuned for the remarkable transformations that await us in the pursuit of Building Better Habits.
Consider the potential of The Habit franchise opportunity – fill out our online inquiry form to get in touch with our team today.