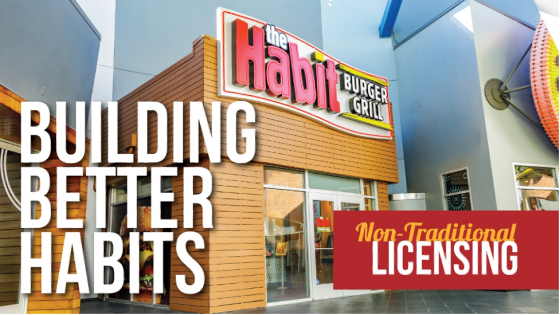 In the first edition of our "Building Better Habits" series, learn more about the topic of non-traditional licensing with a feature from John Phillips, The Habit Burger Grill's Chief Global Business Partnerships Officer. With over 25 years of franchise knowledge and a decade long-relationship with The Habit, John shares his insight on the various aspects of the non-traditional franchise model. Continue reading to learn more.
Why do you think The Habit presents an attractive model to licensees?
JP: The fact that we have a diverse, fresh menu that plays across varied demographics and age groups without the need for table service is a huge draw for licensees. The Habit's promising volumes that translate well into the non-traditional realm means we're nimble enough to adapt our model to the needs of the operator and their market. One instance of this flexibility, is our ability to alter menu offerings to best suit the needs of operators and their restaurant business.
Describe the flexibility of The Habit's restaurant real estate formats for non-traditional sites. Are licensees able to serve guests the same way a traditional restaurant can?
JP: Our non-traditional locations maintain the quality of service our Guests expect just the same as our traditional restaurants. While most sites have front counter service and a fully operational kitchen in just 1000 sq. ft., we also have other sites with full dining rooms. In our college campus sites, we especially appeal to the students and faculty with our handhelds that make a great grab and go option. This is also the case for our non-traditional sites that fit in airports, theme parks, and casinos.
What kind of support do non-traditional Habit operators receive?
JP: To start, Habit licensees receive assistance with prototypical plans, construction, design and sourcing the implementation of IT systems. With our access to top-tier equipment and millwork suppliers to finish out the process, and onsite training and support in the first 3-4 weeks of business, we ensure our licensees can have a successful grand opening and ongoing restaurant operations. The licensees also have a dedicated business manager that helps them address any operational issues they may run into.
In his closing thoughts, John iterates that it is incumbent upon The Habit to be a good partner with the licensee to understand what market needs they are looking to fulfill in a non-traditional manner. If you are interested in discussing non-traditional or traditional growth opportunities with our better-burger franchise, fill out the online inquiry form to get in touch with our team today.