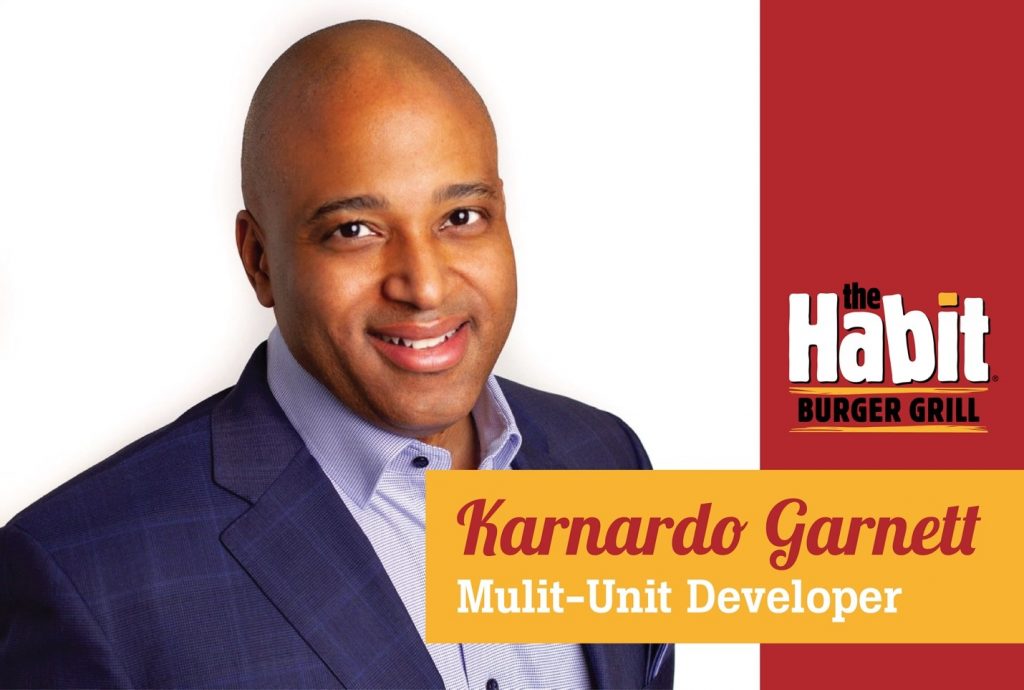 Karnardo Garnett is a successful entrepreneur who has made a name for himself in the restaurant space. Mr. Garnett's hospitality-first mindset and passion for building successful relationships led him to franchise with The Habit Burger Grill in early 2022 when he signed a partnership to develop 10 new Habit restaurants in the Tampa Bay market.
As The Habit's presence in the Florida state continues to grow, Garnett is a great example of a franchise owner who's grown their portfolios in attractive, untapped markets. Read more about Garnett's background and his inspiration to grow with The Habit.
An Early Career in the Tech Industry
Growing up in Georgia and coming from a family of farmers, Garnett developed an appreciation for food and its ability to bring people together at an early age. As a teenager, Garnett got to see the community impact food provides as well as get a taste for the franchise world firsthand as a McDonald's employee. He would take what he learned from this initial exposure to the franchise business and apply the lessons he learned to his future business operations.
After graduating from college, Garnett worked for several Fortune 500 companies as a software engineer, including GE and Verizon. Garnett worked in this field for over a decade and then decided to obtain a law degree and launch his businesses, Legacy Concessions and Legacy Hospitality. It was at this point that Garnett would start to get involved with top-tier brands and restaurant franchises, racking up an impressive portfolio made up of nine restaurant concepts. In 2020, Garnett was inspired to find his next franchise investment when he heard that The Habit had become a part of Yum! Brands. That kind of large-scale backing intrigued Garnett and he began to inquire.
Deciding on The Habit
Garnett felt drawn to investing in a burger concept and The Habit specifically interested him for a few reasons. One reason was our aggressive, yet supported and sustainable, approach to franchise growth, a quality Garnett was actively seeking out in his franchise investment. The Habit's passion for quality food and guest experience also aligned with the seasoned operator's values, and his extensive business background further solidified the decision to grow an industry-savvy brand.
"To say that I am excited about partnering with The Habit Burger Grill is an understatement," said Karnardo. "I believe in this brand; the quality of its food product and its focus on company culture are one of a kind. In my experience, being in the restaurant industry is all about building relationships with people centered around food. The Habit Burger Grill does an outstanding job of surrounding you with good people, high-quality food options and the systems to deliver a consistent experience. I like to operate based on my company's core values, which I call the '4 W's': We Care, We Listen, We Innovate and We Deliver, and through this brand partnership I am able to go above and beyond on all of these to create the best overall dining experience."
We are thrilled to welcome Karnardo Garnett to The Habit franchise family and know that through his hard work, perseverance, and commitment to excellence, his restaurants in the Florida market will flourish.
Are you evaluating your business pursuits and interested in exploring The Habit's franchise opportunity? Fill out the online inquiry form to get in touch with our team today.