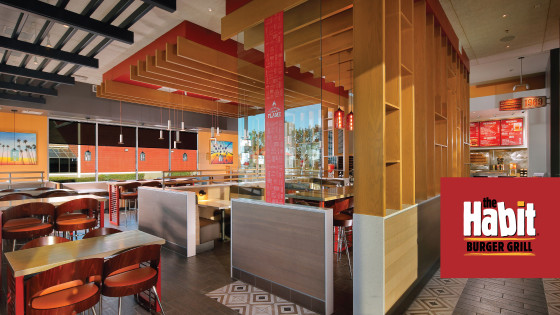 With restaurant franchise ownership comes the opportunity for sophisticated investors to expand their portfolio. In fact, multi-unit ownership is steadily on the rise and according to FRANdata, 54% of all franchises in the U.S. are owned by multi-unit operators. The Habit's multi-unit franchise opportunity allows our owners to diversify their revenue channels and scale their business by leveraging existing overhead. Below are key factors of our franchise model that allow The Habit's multi-unit operators to unlock new levels of success:
Variety of Real Estate Models
Giving our owners a wide range of real estate models to choose from, The Habit's flexible footprint means franchisees can leverage a variety of optimal sites for their restaurants. In-line end caps, end-cap drive-thrus and free-standing drive-thrus all fit well in suburban markets and our non-traditional venues offer unique options for colleges and universities, airports and amusement park complexes.
Area Development and Securement Support
After the development agreement is finalized, our team provides owners with suburban-centric market planning, site selection guidance, exterior and interior store designs, support through the construction process and access to a list of preferred vendors. Following the buildout process, our team will continue providing support in several aspects of training and equipment sourcing so you can optimize the performance potential of your future restaurants.
On-Going Franchise Assistance
Once franchisees have their restaurants up and running, The Habit's hands-on guidance continues. From marketing and our in-house Restaurant Service Helpdesk technology aid to our brand-standard training and product innovation, The Habit franchise team has got our owners covered, allowing them to focus on diversifying their investment by adding more units. The Habit's largest multi-unit franchisee, Stan Singh, began his franchise journey with 20 KFC restaurants. Singh has since added 12 Habit Burger Grill restaurants and two food trucks to his portfolio, a milestone he was able to reach because of the all-access guidance of our franchisee support team.
Singh recently stated, "The Habit team's hands-on guidance and proven business model have allowed me to grow my portfolio beyond what I expected."
If you're looking for a multi-unit franchise opportunity that will take your investment to the next level, inquire about our franchise opportunity by filling out our inquiry form and start your franchising journey with The Habit!