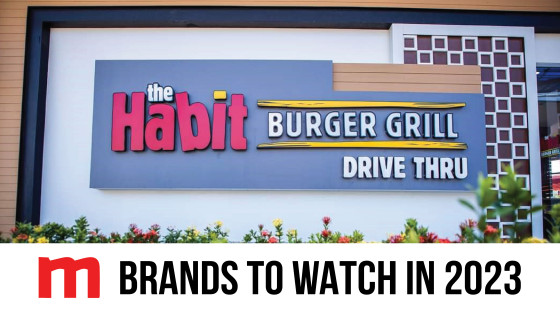 With the beginning of 2023 upon us, we at The Habit Burger Grill are reflecting on the continued growth and business accomplishments from this year that have enabled our brand to stay at the top of the competitive fast casual restaurant business.
Award-Winning Franchise Opportunity
Our handcrafted food and diverse menu, modern and inviting restaurant atmosphere, and genuine hospitality continue to resonate with Guests and franchise business owners alike. We take pride in our fresh, made-to-order menu offerings as well as our Guest-first service mentality which has allowed us to collect a few distinctions this year. The Habit has been recognized on the Contenders list of QSR Magazine's QSR 50, named by Newsweek as one of America's Favorite Restaurant Chains in 2022, and ranked #148 on the Franchise Times Top 500 list, 23 spots higher than in 2021. Furthermore, we received the Zor Award by Franchise Times as the Top Brand to Buy. We have positioned the brand to continue to have long-term Guest appeal as we continue our incredible growth in the better burger category with qualified restaurant owners and operators.
Championing Innovation and Diversity in Business
The Habit's robust and proprietary business systems along with the backing and scale of Yum! Brands enables us to build a healthy business and working culture for all of our partners. We aim to nurture a culture of innovation and diversity across all facets of our organization. In August, Yum! Brands was named one of the top franchise companies doing the most to champion diversity through its Unlocking Opportunity initiative. The Habit Burger Grill is an integral part of this program and it allows us and our partners to promote equity & inclusion, education, and entrepreneurship. We advocate for capable and committed individuals from all walks of life to be a part of our brand and support their professional and business development journey.
Looking to the Franchise Future
The Habit's growth momentum from 2022 continues to build both in our equity and our franchise restaurant presence on our journey to over 2,000 restaurants nationwide. With our title as a top franchise opportunity, the future for our brand has unlimited growth potential. Our Guest experience is unrivaled and our marketing and supply chain expertise puts The Habit in a prime position to face economic challenges should they arise. This year alone, we opened 33 new restaurants bringing our footprint to a total of 348 locations.
To learn more about The Habit franchise opportunity and discover the available options to further your professional and business goals in 2023 with our renowned brand, please explore our website to learn more about The Habit franchise and fill out our initial inquiry form to get in touch with our franchise development team.